2018 Brush Collection - District 3
Superior Waste Removal - 315 672-3174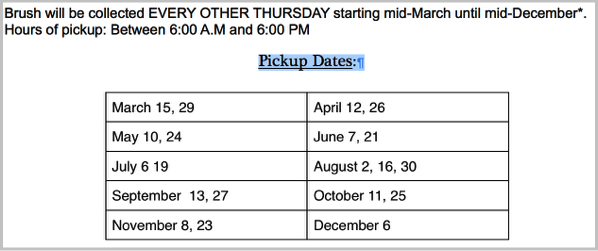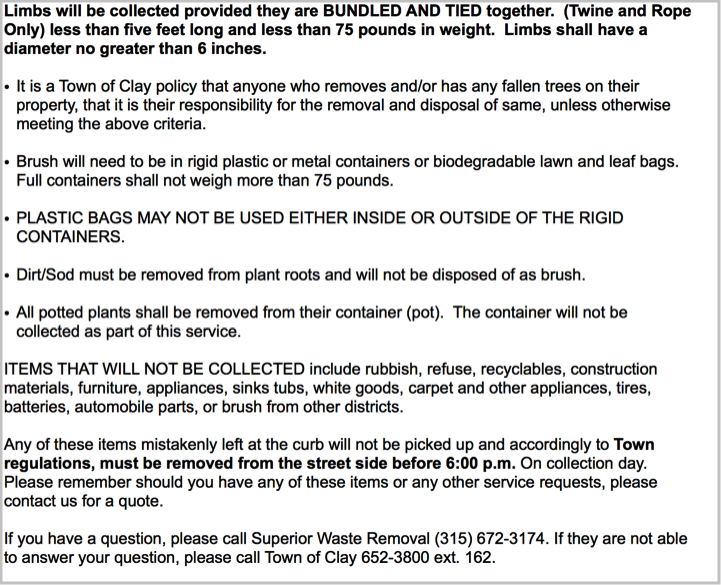 NEW: Yard Waste Recycling Center
The Town of Clay now provides a Yard Waste Recycling Center located on Oak Orchard Road, one mile east of the intersection of Henry Clay Blvd. The Oak Orchard Road Yard Waste Center will be open the second Saturday of each month from April - November, 8am til noon. Town of Clay residents may drop off (free of charge) yard waste such as leaves, grass clippings, shrubs, trees (including stumps), and concrete.
Please NO plastic pots or plastic packaging of any kind, including retail bags or plastic trash bags. If you bring any material in plastic, please be prepared to take it with you.
If you have any questions, please call the Highway Department at (315) 652-3800, prompt #3. You may also visit Onondaga County Resource Recovery Agency's website at www.ocrra.org
or call (315) 453-2879 to obtain information on their yard waste operations.